Originally I'd thought about using a completely different CSS file for the open source fonts, but this would have meant changing the HTML on every page to load a different file and that seemed to defeat the purpose of using CSS.
Instead I have two versions of ps-fonts.css. The first is the one with the Equity fonts shown in code 9.6.
The second is the one shown below for the open source fonts.
Before starting on the CSS, we need to put the open source font WOFF files in the woff folder (the open source WOFF files are those listed in table 9.10):
\1001-website\21-global\03-fonts\woff
This is the same place I put the Equity WOFF files in the online version.
This is what I have in my folder: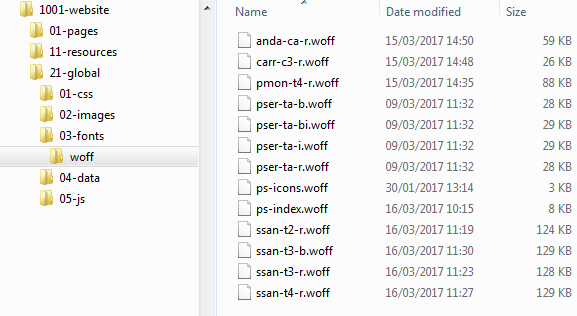 Download it here a.
Now the ps-font.css file:
Let's look at what I've done here; we'll take the eqty-ta-r font family as an example. The original @font-face code (with the Equity font) was:
And the open source version is:
Apart from the comments, the only thing that has changed is I've loaded a different WOFF file woff/pser-ta-r.woff not woff/eqty-ta-r.woff; everything else stays exactly the same. The effect of this is that when I select the eqty-ta-r font-family in style.css (for body text &c.), I'm now using the open source font PT Serif instead of Equity.
No changes are required to style.css, the font name stays the same—it's just linked to a different WOFF file†1.
And that's it; I do the same for each @font-face rule in ps-fonts.css.
The two fonts that I've made, PS Icons and PS Index, I discuss briefly in the next section.
†1
It's not strictly speaking true that there are no changes to

style.css

; the open source fonts need a bit of tweaking when they're used, I change the font size, letter spacing and line spacing; however, I make these changes in a separate CSS file. I cover it all in Section xxx.