Look at this; this is how I think it should work: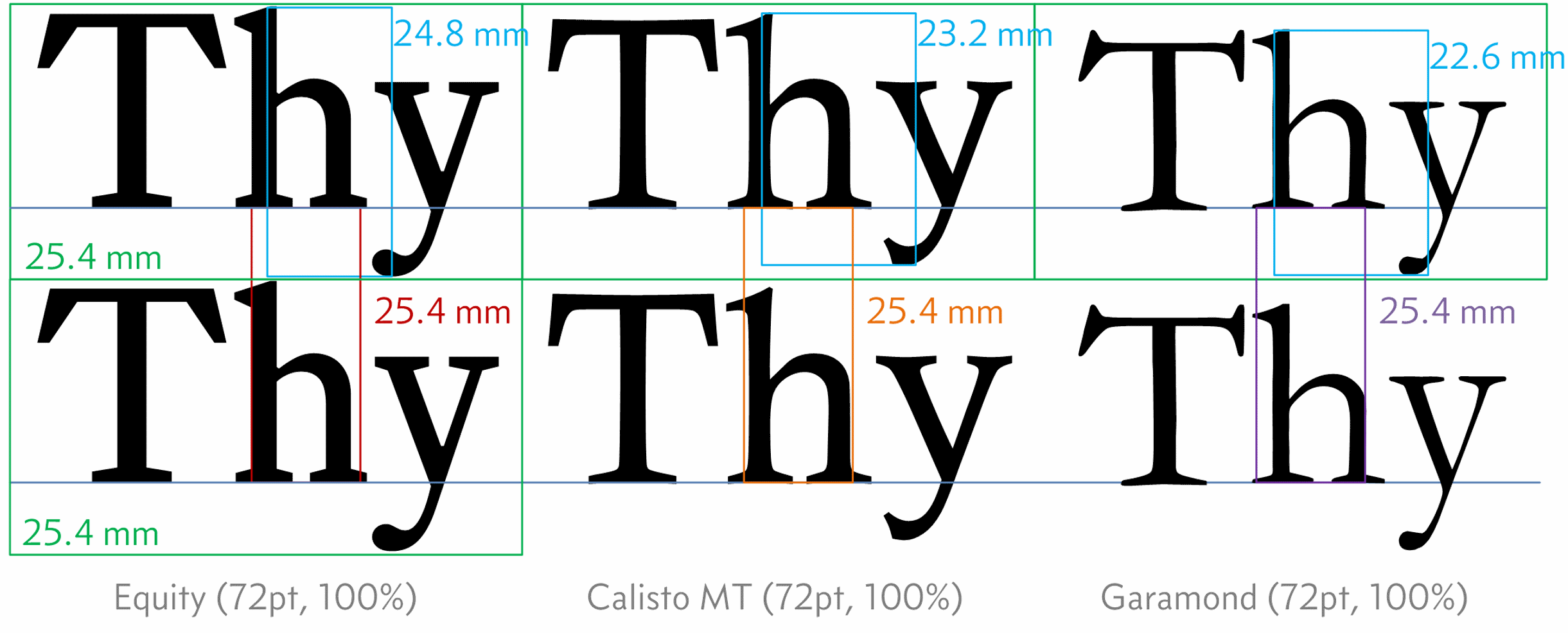 This is two lines of type in three different fonts; all are at 72 point (which we know is the equivalent to 1 inch or, as shown here, 25.4 mm), the line spacing is 100% in each case.
With a line spacing of 100%, the baseline to baseline distance should be the same as the point size i.e. 25.4 mm and it is — good.
The body height of the text (distance from the top of an ascender to the bottom of a descender) is different for each font (24.8 mm for Equity, down to 22.6 mm for Garamond); but each font is aligned on the same baseline and the body height has no effect on line spacing — also good.
So I think you will agree this is exactly how it should work. The above figure is a screen shot of text written in the Microsoft product Visio.
Now look at the same arrangement in another Microsoft product, Word 2010: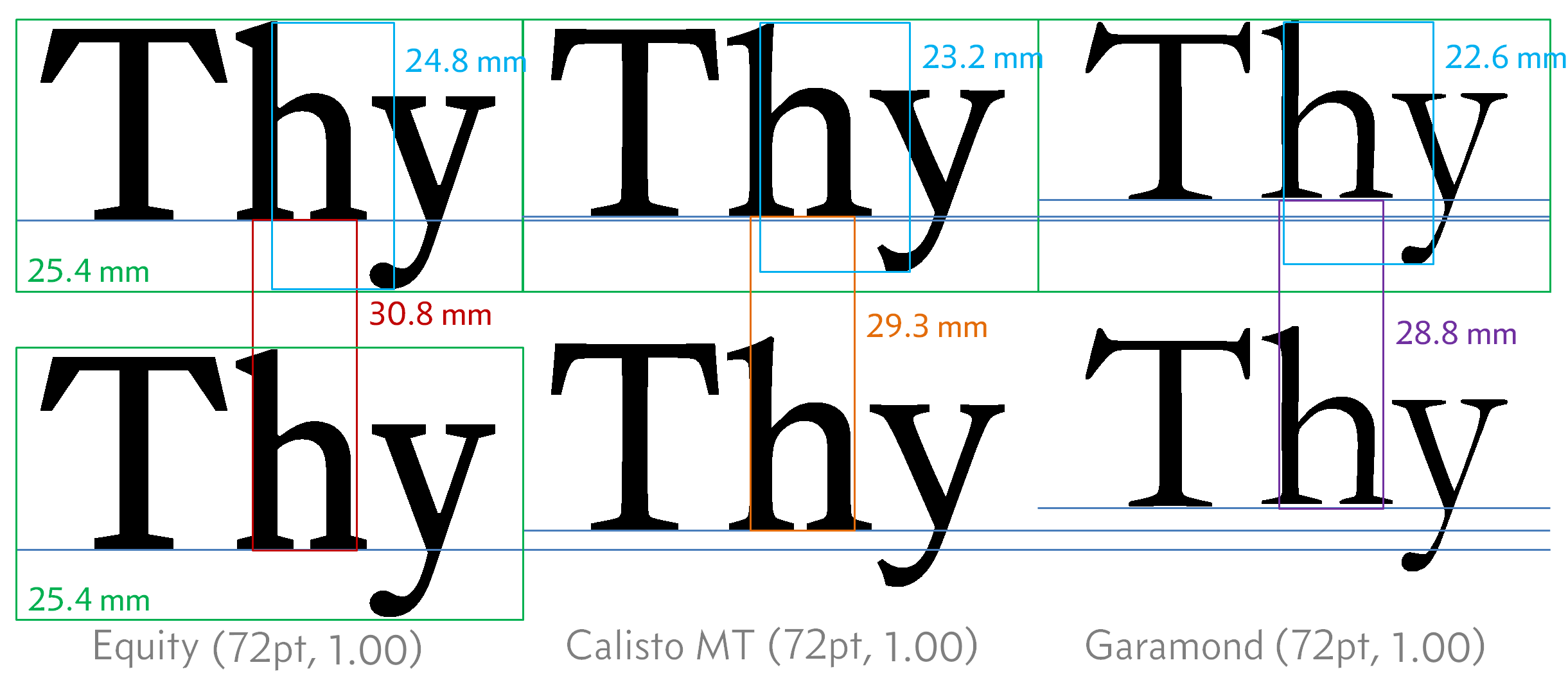 Word uses a peculiar line spacing arrangement, the line spacing is set to a multiple value and a scaling value is entered (that is the number 1.00 shown above). See the explanation here.
Ok, this is all over the place — each font is on a different baseline and the distance between the baselines is different for each font — wtf is going on?
I tired the same thing in Inkscape and it was exactly the same as Visio (i.e. just how I think it should work).
So is it just Word? — Well yes, I think it is. At first I thought it might be how I was positioning the text (the above example is done in a table with three columns, one for each font).
Have a look at the following, here the three fonts are organised into six line paragraphs. All three fonts are at 11.5 point and all with the same line spacing (135%):
The blue line on the right is exactly the same height in all three cases and is set to be the height of the whole six lines in the top (Equity) paragraph. In all cases, the top of the line is aligned to the top cross stroke of the 'I' on the first line.
Here it is again — in Word, the font is changing the line spacing — why?
Well the honest answer is "I don't know", I've spent a long time looking at it and trying to work it out — I've even read a bit about font design, and while it is true that I don't know for sure, I think I can guess a little bit about what is happening.
Here's my best guess — I did the same experiment above with different line spacing, this is the result: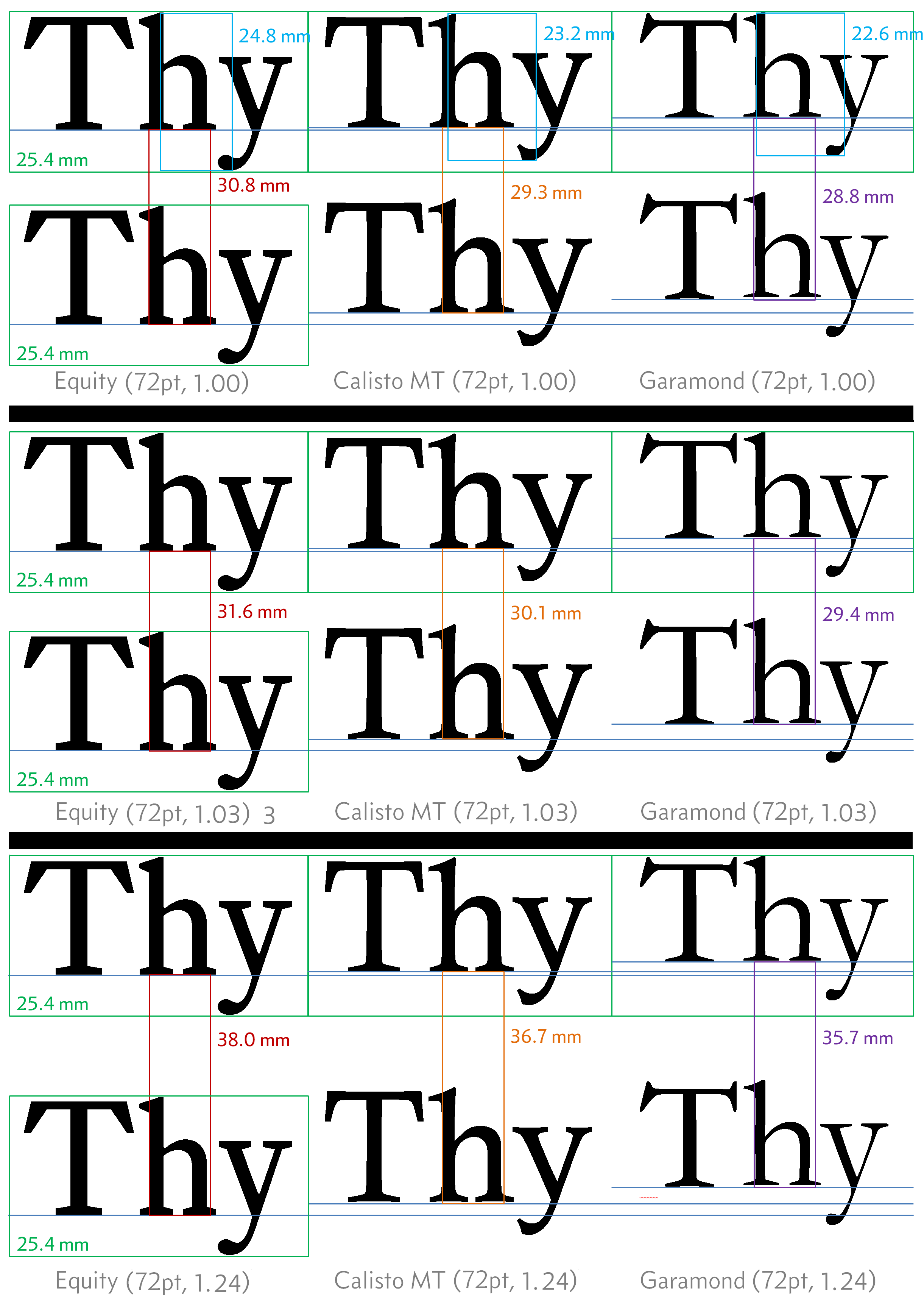 One thing is for sure Word is not using the point size of the font (em square), if it were the line heights would all be the same.
The following table summarises the line heights and gives them as a percentage of the body height:
Line Spacing
Font
Body height
× 1.00
% Body height
× 1.03
% Body height
× 1.24
% Body height
Equity
24.8 mm
30.8 mm
1.24
31.6 mm
1.27
38.0 mm
1.53
Calisto
23.2 mm
29.3 mm
1.26
30.1 mm
1.29
36.7 mm
1.58
Garamond
22.6 mm
28.2 mm
1.25
29.4 mm
1.30
35.7 mm
1.57
Average
1.25
1.29
1.56
Table 3.6   Line height as a function of body height (Word)
What do we conclude from this? Well allowing for errors in my measurements, I think we cans say that:
| | |
| --- | --- |
| | |
| | In Word, the line heights are all multiples of the body height—not point size |
| | |
Now, while I think this is wrong, it helps us in one important way: this is also how web browsers calculate line height (see § 3.2.5).
But this leaves an important question: "What line spacing value should I use?"
And the answer is "I'll be buggered if I know."
I know what I think I want — I think I want 135% line spacing — why do I think this?
I think this because I've experimented with it, I put the same paragraph into Visio (which I think calculates line spacing properly) and adjusted it until I got something I liked and it turned out to be 135%; it looks like this (Figure 3.15):

I then overlaid this with the same text in word: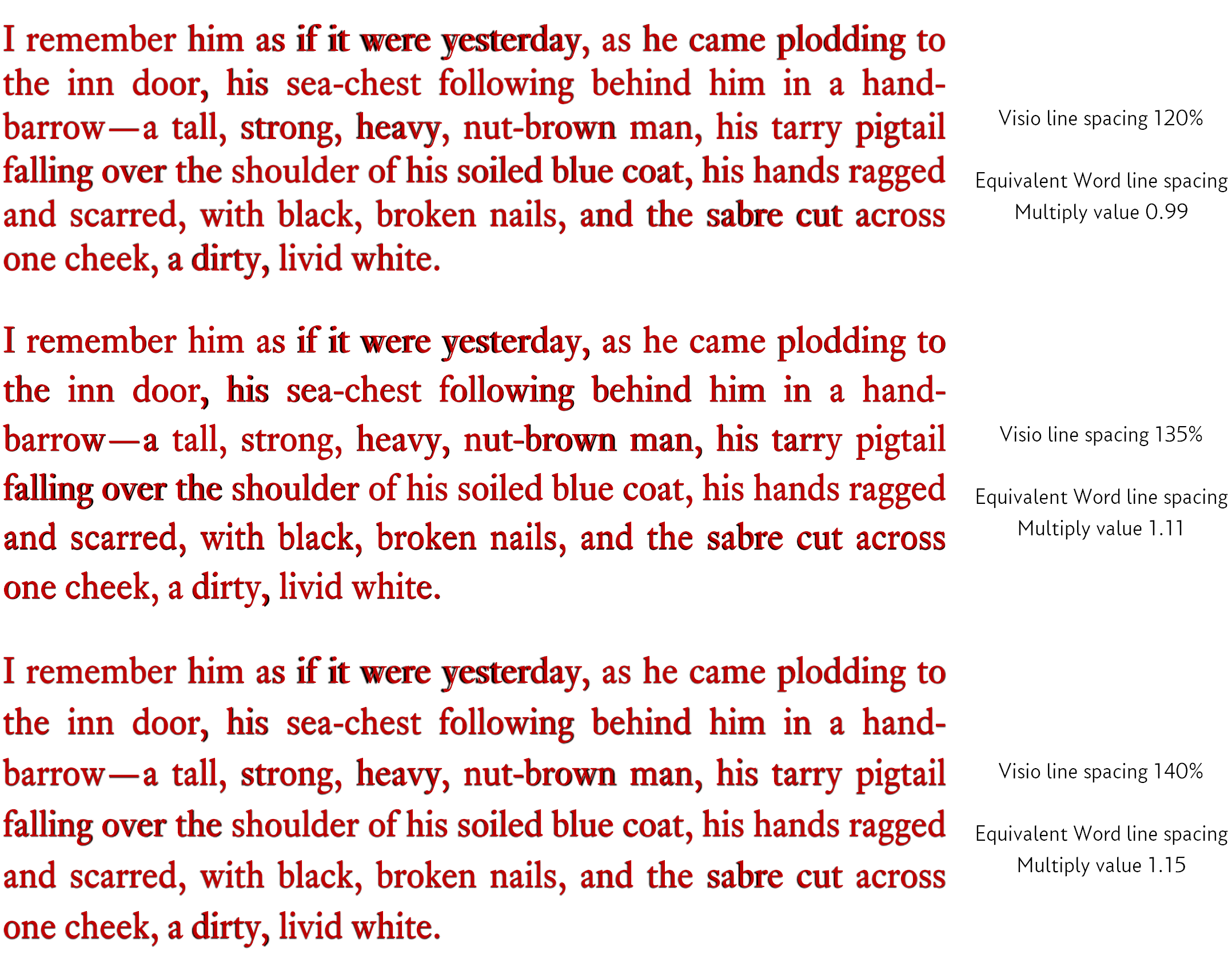 I did this by entering the paragraph in Visio, taking a screen shot and inserting the resultant image behind the equivalent text in each row above, I scaled the image until the text was the same size as the Word text (Word text is in red, Visio text is black and behind the Word text). I then adjusted the line spacing in Word until the height of the whole paragraph matched.
The difference in lateral positioning of the words (seen most clearly with "if it were yesterday" in the top line) reflects the differences in how Visio and Word justify the text — it has no bearing on the line spacing.
I repeated the exercise in exactly the same way with Calisto MT and Garamond (I haven't included the images here, they're just more of the same), this gave the following results:
word multiply value for line spacing of:
Font
120%
135%
140%
Equity
0.99
1.11
1.15
Calisto
1.03
1.16
1.21
Garamond
1.07
1.19
1.24
Average
1.03
1.15
1.20
Table 3.7   True Word line spacing by font
Where does this leave us? — Well it means that:
line spacing in Word is entirely dependent on the font being used.
Here is a rule of thumb (based on the average of the above figures):
Line spacing in Word†2

Line spacing in word is dependent on the font being used. As a rule of thumb, the following line spacing (multiple) values give the following (approximate) line spacing:

Word multiply line spacing value
Equivalent approx. line spacing
1.03
120%
1.07
125%
1.11
130%
1.15
135%
1.20
140%
1.24
145%

Line spacing is set in Word as part of the paragraph properties: right click the text and select paragraph from the drop down menu, it's under line spacing.

To set line spacing between 120-145%, set the line spacing box to multiple and enter a value between 1.03 (equivalent to 120%) and 1.24 (equivalent to 145%).
So here's the thing — in Word point size is not an absolute measure of text height and line spacing— dig deep and let it go. The best thing to do is to judge by eye. With a document, this is by printing it out and reading it. With a website, it is by viewing it on different monitors.
Remember that airy-fairy thing I said earlier, I knew it would come back to haunt me.
†2
The figures listed here were determined empirically by printing out sample text and measuring it with a ruler (old fashioned engineering). I did find it satisfying that my figures also matched those derived by some other people: Mr Matthew Butterick (practicaltypography — no relation). I would be interested to know how Mr Butterick arrived at his figures (I imagine it was a more elegant method than my clumsy attempt)—should he ever read these pages, perhaps he would be good enough to let me know.